When people are designing their homes, they are thinking the least about lighting and ceilings. Ceiling is what is to be considered as the fifth wall, which has a great potential. Ceiling lights in the interior setting are designed to serve a purpose. They can be a creative canvas and at the same time help the homes to look their very best.

Can you imagine your ceiling without lights? No doubts that the lighting makes your ceiling more enhancing, looks lavish & completes the entire look of your home. In fact, your interiors won't get the attention they deserve in the absence of proper lighting. So how can you achieve it? A proper false ceiling with Gypsum Ceiling, PVC Ceiling, Grid Ceiling, or Wooden Ceiling Works can help you nail it. What's more, regardless of whether your house is compact or spacious, the right lighting setup and false ceilings in Kerala can help illuminate your spaces better without compromising on floor space.
Fostering the perfect atmosphere for Ceilings in Kerala
False ceiling lighting can be installed in any type of room and are ideal to provide gentle illumination down the walls. The best way to use ceiling lights is to use them strategically to highlight a part of the room, the kitchen being one of them. Lights on the kitchen helps in achieving a focused light source in your countertops and avoid shadows and mishaps. Indeed, they make any room look inviting, enhancing the aesthetics of your house.
The ceiling lights have the power to emphasise the space and render the ideal look and feel. Based on the false ceiling coverage, you could plan the lighting for space, as the false ceiling permits ground-breaking lighting methods that you will be able to accomplish. Use or treatment of light should be kept in mind when planning for the false ceilings in Kerala, as its perceptibility and intensified appeal rests with how we correspondingly plan to light the space. Lighting and false ceiling designing need to go hand in hand to acquire a blended aesthetic charm.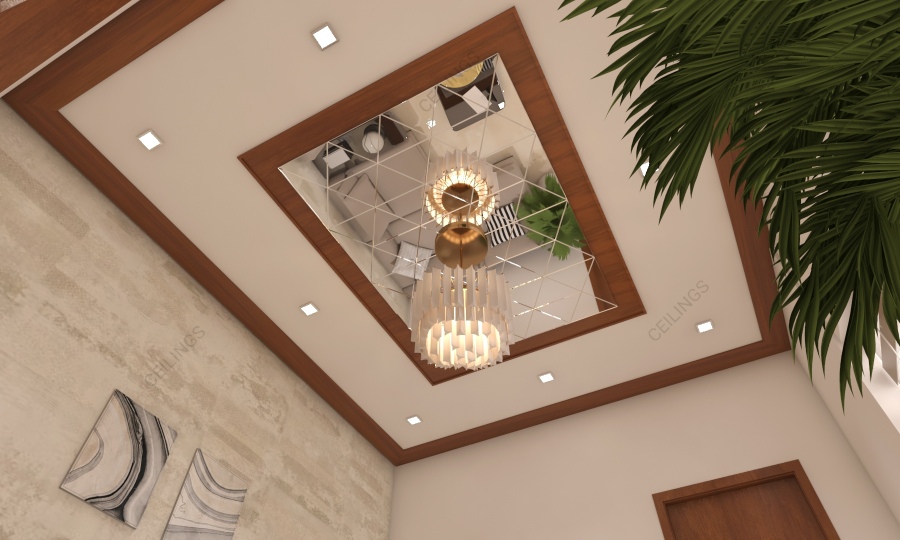 False Ceiling lighting uses

False Ceiling works in Kerala uses various light fixtures in order to provide illumination for a structure or building. Different lighting fixtures can be used for diverse designs of false ceiling interiors. These fixtures are both aesthetically pleasing & functional which can vary mainly in colour, size, style & shape. Be it your living space, bedroom, or modular kitchen, lighting plays a major role of softening the harsh shadows and helping each space to look their very best. Just try some lighting to your room ceiling that magnifies the richness of the house. Let you choose the right ceiling lighting that can be both satisfying and exciting. So, properly planned lighting in your false ceilings, have the potential to amend moods and sell an illusion of larger than real spaces.
Need we say more? Like a building appears incomplete without a solid roof, the home decor appears incomplete without a good ceiling system of proper lighting. For those looking to renovate their home, the false ceiling will help to add the wow factor to your home and ensure that each room stands out with a unique ceiling.