Contractor for False ceiling works in Calicut
Gypsum Ceiling works is an important part of residential and commercial interiors. Gypsum ceiling works are classy and elegant and offers functional features that enhance their utility in more ways than one. To exhibit their aesthetic sense and as attractive interior decoration, gypsum ceiling can be used in living room design, in bedroom false ceiling design and even in kitchen spaces.
Being a hydrated sulfate of calcium, gypsum is popularly used as a ceiling panel because of its fire resistance and waterproof properties, thermal and sound insulation and lightweight. Installing Gypsum false ceilings is easy, and the process is quite easy as well. False ceilings provide space for hiding air conditioning ducts and electrical wires and are natural light reflectors obviating the need for unnecessary artificial lighting reducing electricity consumption. A well-planned gypsum design modular false ceiling in Indian homes is without no doubt both aesthetic and functional and can enhance the beauty of any working environment. When it comes to doing gypsum-ceiling works, It's always best to hire false ceiling experts and follow their recommendation on choosing the best type of false ceiling. As a gypsum work contractor in Kerala, we aspire to provide innovative and unique designs that perfectly match the indoor setting.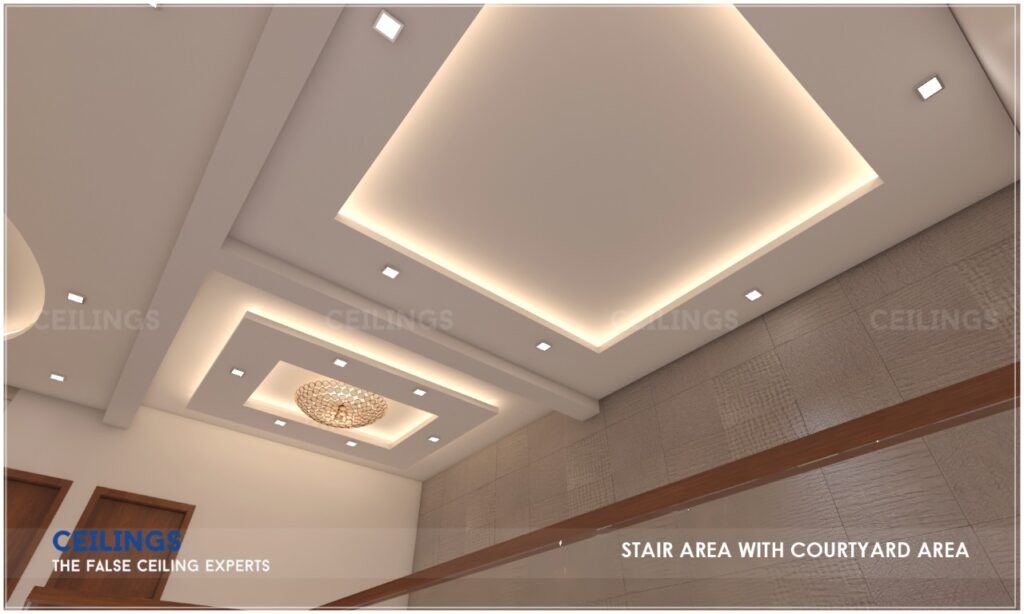 Since inception, we have been successfully providing our customers with the best range of Gypsum False ceiling works in Kerala. We are regarded as one of the specialists offering professional and highly effective quality gypsum board ceiling service in the best possible way possible. Our gypsum false ceiling design is precisely manufactured by a team of professionals with optimum quality raw materials and modern techniques. The ceiling is ideal for use in residential and commercial spaces. Our gypsum false ceilings design is well suited for apartment and villas, hotels, offices and other allied spaces.
All gypsum ceiling works are executed with utmost perfection by an experienced person as per client needs with the utmost perfection and provided at competitive prices. To ensure the best quality, all our gypsum ceiling works in Kerala are tested by our experienced quality controllers before and after execution at the site against several quality parameters. Being one of the reputed providers for false ceiling works in Kerala, our wide expertise is highly appreciated for the hassle-free experiences and on-time execution. Apart from these, we specialize in offering a complete choice of false ceiling services, which include PVC False Ceiling Works, Grid False Ceiling Works and Wooden Ceiling Works.
Get in touch with us
To fulfill the demands of our clients, we have a dedicated team of customer care executives engaged in offering the best of experiences. If you have any questions or need help on false ceiling works from the industry leading false ceiling experts, contact us at +91 9072621000. We will be happy to help you out.