Our Approach in False Ceiling Works..
We are the most trusted and recognized contractors for false ceiling works in Kottayam. With a profound understanding on the potential of contemporary home interiors, we pride ourselves in having the best products and design solutions that meet new standards and changing demands.
We specialize in Gypsum False Ceiling Works, Wooden Ceiling Works, Grid False Ceiling Works and PVC False Ceiling Works. Along with our product range, our prices are highly competitive making us the go-to destination for false ceiling in Kottayam. Our range of solutions for commercial and residential buildings are more energy-efficient, pleasant and comfortable to live every day. As the leading false ceiling contractors in Kottayam Kerala, we do that with the latest industry-leading solutions, design and data while delivering outstanding value to our clients.
Apart from product offerings, we also offer a wide range of false ceiling accessories for multiple building requirements. We offer services that include estimation, 2D & 3D design, and dispatch.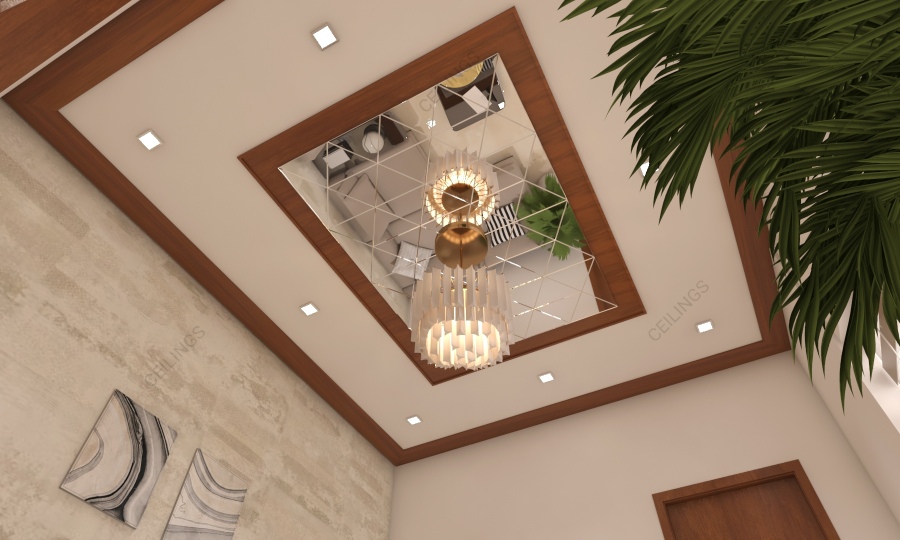 Why choose us
As a contractor for false ceiling works in Kottayam, we strive to bring to you, durable and quality false ceiling interiors. We understand that every customer has their own unique set of requirements and we work towards creating design projects that directly meet your needs. Be it your home interiors, or an office interior, we can help you create beautiful smart spaces.
What we do – Our Process
Once the customer lodges enquiry, we provide them with details of our product range, design styles and estimation to help them compare and get an idea of ceiling designing.
After a customer makes a decision, and make a token payment, our false ceiling interior designer consults with the customer on requirements, style and preferences. All required measurements of the ceiling are taken for each room where false ceiling panels is to be installed.
We believe that communication is the key and will keep you updated throughout the project. This guarantees the project is completed as per your preferences and ensure you a smooth and hassle-free experience.
Once done, our designer provides 2D and 3D designs. These enable a customer to quickly 'see' how their home will look like.
Once the false ceiling design is finalized, our installation team will visit the site and execute the installation. All services are by experienced and knowledgeable persons execute our services.
Contact us
Have you been on the lookout for a trustworthy ceiling contractor for false ceiling works in Kottayam? If so, give us a call at+91 9072621000. Our friendly customer service team will assist in all the questions and concerns you might have.